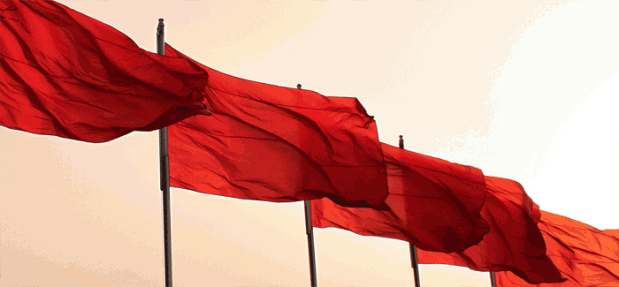 6 China Manufacturing Red Flags
Manufacturing in China is full of potential potholes for even the most experienced. The post lists out and explains the following six red flags that should alert you to the potential for problems down the road of your manufacturing projects in China :

Manufacturing Red Flags
1) Unrealistic good pricing. If a manufacturer is quoting you prices considerably lower than other potential suppliers, you have "found a supplier who has misunderstood the inquiry or who doesn't know how to quote."

2) Updates are few and far between. Usually this means "there is some bad news they are saving up to give you at the end."

3) "We've never done this before." Yount rightly describes this as "a typical answer in China whether in manufacturing or if you're in a restaurant ordering a dish without heavy garlic." This is really another way of warning you to watch out.

4) "It's difficult. " Yount describes "It's difficult" as worse than "we've never done this before" as it usually starts "after the sampling is underway or worse, after mass production commences" and he remind that "the Chinese way of breaking bad news isn't to directly tell you but it's to give foggy hints and hope you proactively fill in the blank."

5) No questions asked and no arguing. According to Yount, a supplier who does not have questions is usually "a supplier who is not thinking about the project. This leads to incorrect quotes and a lot of invested time going down the wrong path." I really like this one because Chinese lawyers are always saying the same thing about Chinese companies that sign whatever OEM Agreement we give them. Our concern when that happens is that Chinese company is either not very savvy or simply does not care much about violating agreements. We like Chinese companies that come back to us with thoughtful proposed changes to the OEM Agreement we sent them.

6) Keeps ignoring a specific request. "If you keep asking the supplier to confirm a specific request and they are confirming and commenting on everything but that specific request, that is not a good sign. They see what you are asking, but they either do not understand it or they understand and cannot do it. A non-confirmation is not a confirmation."
As a result of our experience China2West is able to reconginse these manufacturing red flags, spotting the potential problem before it ever occurs. Whenever you are experienced in sourcing from China or it is your first time let China2West use our expertise to guide you through manufacturing in China. If you are interested in manufacturing your product please contact our team