Manufacturing in China vs Vietnam.
This blog will try to provide you with an unbiased, objective comparison of manufacturing in China vs Vietnam.
Why is this comparison important?
It has been considered almost essential in manufacturing to take advantage of the low costs in China for decades. However, making the comparison between China and Vietnam recently became more relevant.
This is owed to the fact that China's average hourly wage rose to an all-time high of 82461 CNY per annum in 2018. This translates to roughly 11786.06 USD using an online conversion tool.
As a result of these wage changes, other South-East Asian countries, like Vietnam, were able to compete with the previously unbeatable costs in China.
The US-China trade War also caused significant uncertainty over the future of manufacturing in China and led to a change in focus to other countries.
C2W have regional offices established in Bangkok, Thailand and in Ho Chi Minh, Vietnam.
Get in touch for more information.
Costs
Many businesses with an existing supply chain in China are unsure whether to relocate to Vietnam. It is key to consider the costs of: wage and labour, importation, relocation and facility development and quality control. For a more detailed discussion about these factors, see 'The cost of moving an existing supply chain from China to Vietnam' blog.
Continue reading for a more broad comparison between manufacturing in China and Vietnam.
Sourcing a supplier
One of the first things to consider when deciding whether to move manufacturing to Vietnam is the ability to source a supplier for your specific product.
China boasts a huge range of manufacturing teams with experience in an unbelievably diverse range of products. This means that it is not difficult to find a company able to meet your demands.
However, Vietnam has the highest rate of industry diversity in the whole of South-East Asia proving it to be a strong competitor for China. It
is also the world's second largest exporter of smartphones and the second highest sourcing country for garment imports in the US. Such figures suggest that Vietnam may be the best choice for these types of products.
Therefore, when considering this diversity and your product requirememts, you may find it more effective to manufacture in Vietnam.
China 2 West are able to advise you on which location is best for your specific manufacturing requirements. You can contact us here.
Workforce
When comparing manufacturing in China and Vietnam another factor to essential consider is the capabilities of the work force.
Quantity
Although it has been suggested that China has an aging population and thus a falling working-age population, it has been found that China has nearly FOURTEEN TIMES as many workers as Vietnam.
Such figures indicate that China may offer the benefit of more workers. This benefit may also apply to China's quality of workers.
Quality
China has a more mature manufacturing industry compared to Vietnam
because of its long-standing dominance. This often means that China's factories and workers are far more experienced in their type of work suggesting that, broadly speaking, you can trust in their ability to complete a job properly.
Despite its industrial diversity, Vietnam's work force and factories are likely to be newer and therefore less mature than those in China. Consequently, this can have relay effects on worker and machine productivity as well as on the quality of products.
It is important to consider the level of quality you require in your products when comparing China's and Vietnam's ability to make your product correctly. After all, years of practise and experience doesn't go unnoticed in the manufacturing world.
Nevertheless, it will not be long before the gaps that exist in the market begin to close as the quality of workers in Vietnam continues to grow.
C2W's workforce in Vietnam work to the same high standards as all of the other regional officers in China, Thailand and the US. You can be sure that using C2W will avoid issues regarding quantity and quality of workers.
Speed of production
Closely linked to the capability of workforce is the speed of production. This is a particularly important aspect considering how fast industries move onto the newest trends.
Intellectual property agreements
If you already have an existing supply chain in China and are looking to relocate to Vietnam, intellectual property (IP) agreements are crucial.
Chinese manufacturers have the right to refuse transfer to Vietnam if they have done any custom design for you. This includes custom designs, moulding or tools. You may also find that your IP coverage does not specify in all areas of production because there are multiple types of patents.
Be sure to research this properly and be in-the-know about IP laws in China and Vietnam.
Location
China is home to seven of the world's 10 busiest shipping ports and has an extensive rail network. This offers a number of manufacturing benefits but Vietnam also benefits accessible road and shipping links to China and other key locations.
Reliance on imports
It is also important to consider Vietnam's reliance on importations. In Vietnam, 70-80% of fabrics used to make clothing are imported, mainly from China. The case is similar for electronic products. It may be more time and cost-effective to source directly from China if this is relevant to your specific production requirements.
Sustainability
The importance of environmentally conscious manufacturing becomes increasingly important. As the effects of global warming worsen and as consumers become more concentrated on green efforts, these ideologies have a huge impact manufacturers.
So who is more sustainable?
On the surface, China's maturity may suggest that it is likely to work flexibly with changes in demand and more able to source sustainable materials.
This maturity also means that it is extremely easy to source inspection agencies and suppliers that are experienced in meeting international standards. Therefore, it may be more legitimate to use a company that abides by these guidelines in China compared to newer and less regimented companies in Vietnam.
All C2W regional offices are western owned and managed meaning that we provide western standards of service, goods and inspection. This too is true for the precision assembly and manufacturing company Shield Works.
We hope that China 2 West's 14 years of experience and ability to work flexibly will put your mind at ease when considering if we are able to meet a client's environmentally conscious demands.
China-Us trade deal
The China-US trade deal has caused a lot of tensions and concern for the future of manufacturing in China. Many companies have consequently been seeking to move manufacturing to Vietnam.
A fair comparison
Vietnam does increasingly well compared to other South-East Asian countries so it is not fair to compare Vietnam to China only.
Other comparisons
It will also be useful to compare manufacturing in China vs Vietnam against the rest of the world on a number of validated indexes.
Examples include:
– The World Bank's 2018 Logistics Performance Index
– The human capital index ranking
Conclusions:
Vietnam may have a less capable workforce than China but sourcing high quality manufacturers in Vietnam is easier with China 2 West's help.
The best location for manufacturing may depend on the product requirements.
Intellectual property agreements are crucial when seeking to relocate from China to Vietnam.
Chinese manufacturing may be more in-line with international standards of inspection and production. Although, many facilities in China and Vietnam have extremely high carbon emissions and little concern for pollution.
It may not be fair to compare manufacturing in China vs Vietnam without evaluating Vietnam's position among other countries

.

The validity of this information may vary depending on the changing political situation.
Using China 2 West as your service provider can alleviate differences in quality and ease of business that exist between Vietnam and China.
---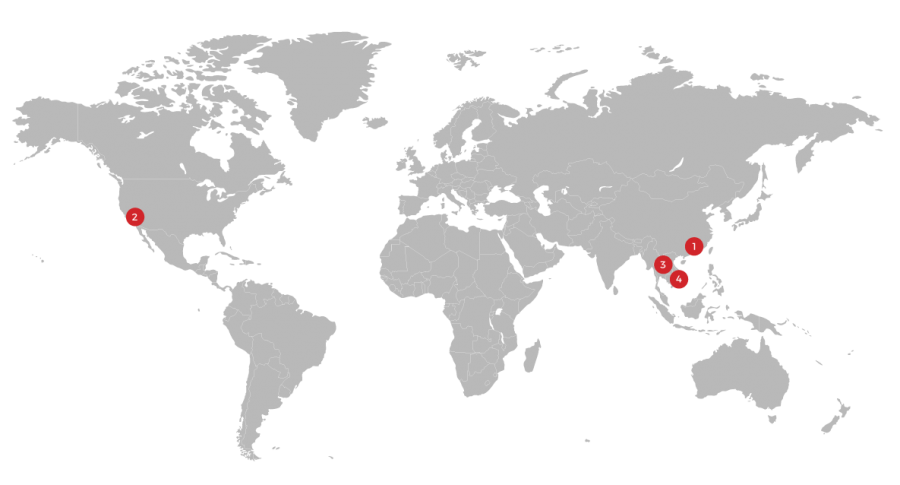 Contact us
Get in touch for more information.
Please note that this information was sourced and written with the aim to inform and C2W does not take responsibility as to its accuracy, completeness or correctness.