2018's 3Peaks1Week Charity Hiking Challenge was an epic test of fitness, courage and mental will power. In memory of Keith Jacobs we totally raised USD 18,221.49 from 161 unique donators for great cancer research charities.
All costs related to the challenge were self-funded and we split the total money raised 60/40 between two amazing charities with The Velindre Cancer Center in Cardiff, Wales receiving USD 10,932.83 and St. Jude Children's Research Hospital in Memphis, TN receiving USD 7,288.60.
Thank you so much again to everyone who donated and supported us, we wish you good health and fortune in 2019.
Best regards,
Mark, Nick and Mark
Learn more about the challenge and the charities below
The Challenge of a Lifetime
On Wednesday 13th June 2018, 3 ordinary blokes undertook the challenge of a lifetime and scaled 3 of the highest peaks in S.E. Asia in only 1 week to raise money for great cancer research.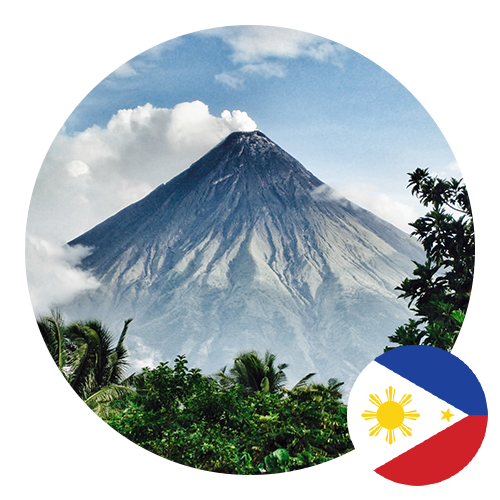 Mount Apo

- Height 2,954 m (9,692 ft)

- Elevation Gain 1,755 m (5,755 ft)

- Highest mountain in Philippines

- 98th highest mountain in the world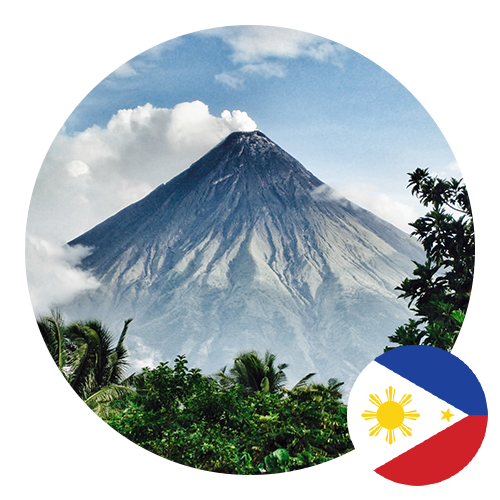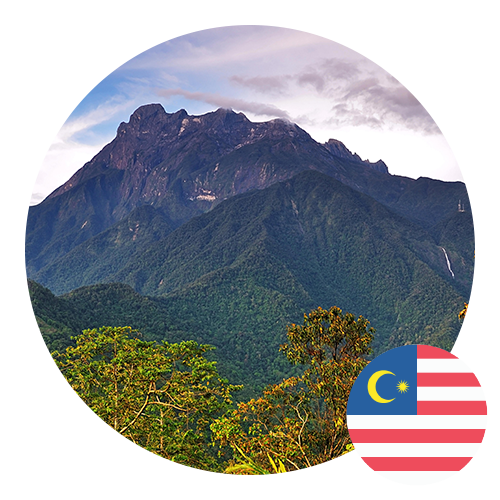 Mount Kinabalu


- Height 4,095 m (13,435 ft)

- Elevation Gain 2,266 m (7,434 ft)

- Highest mountain in Malaysia

- 20th highest mountain in the world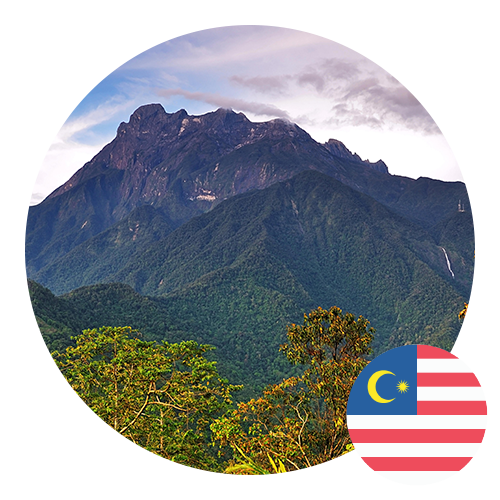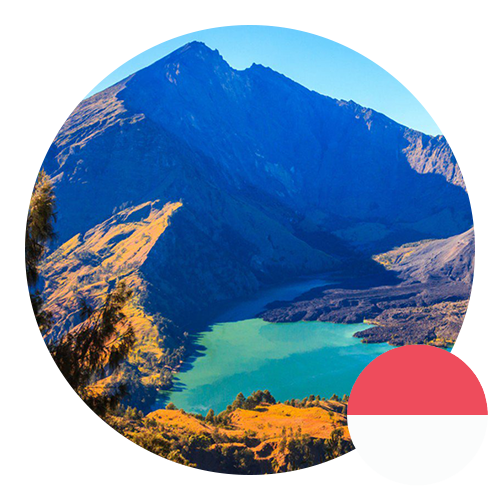 Mount Rinjani


- Height 3,726 m (12,224 ft)

- Elevation Gain 2,570 m (8431 ft)

- 3rd highest mountain in Indonesia

- Very active volcano

- 38th highest mountain in the world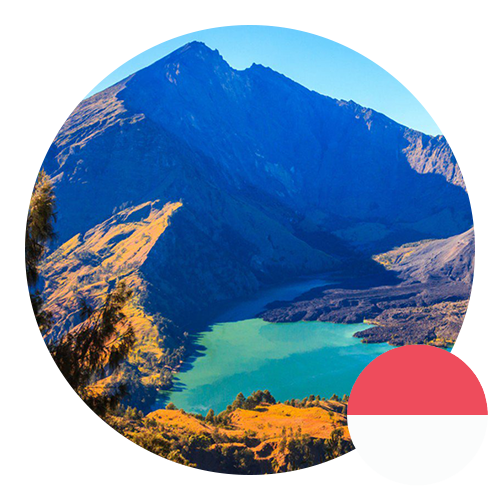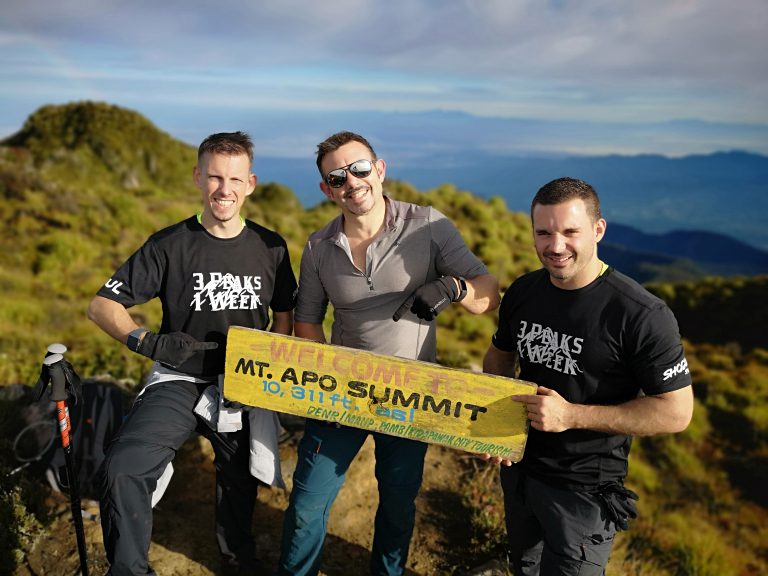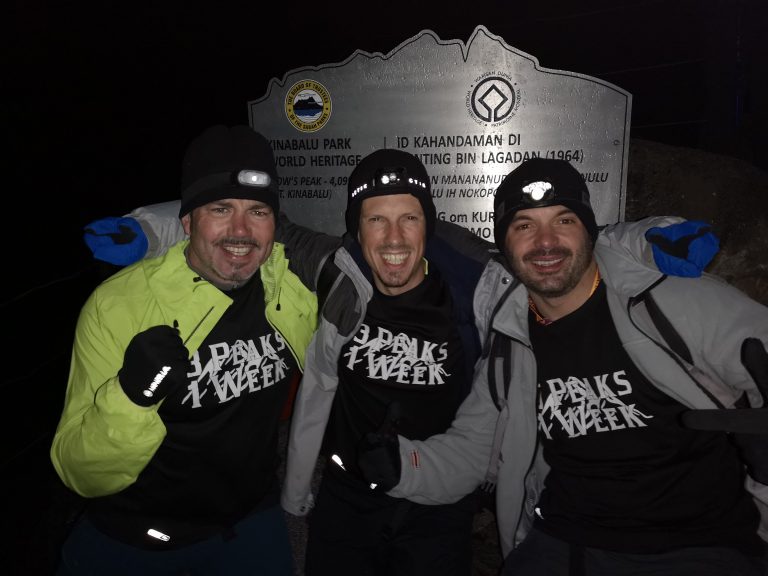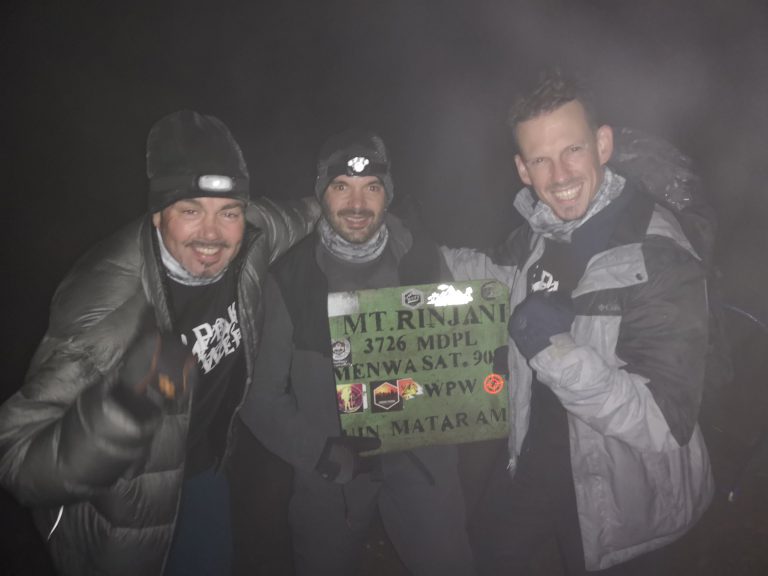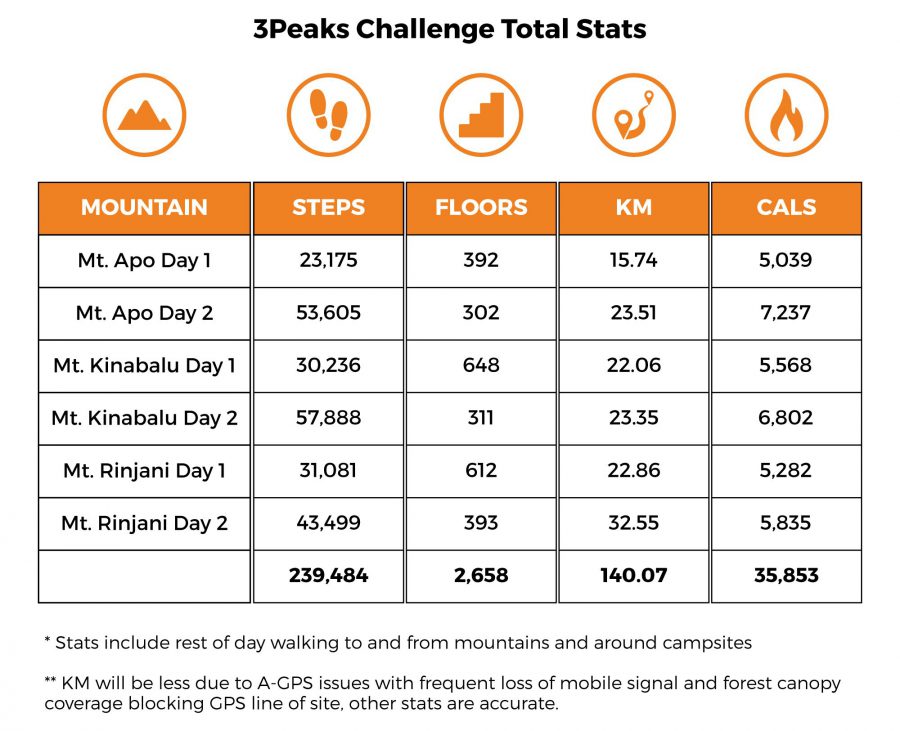 The 3 ordinary blokes are friends and business partners for approaching a decade and a half. All 3 are British, met in South China and still live in Asia.
Mark Jacobs
(38)
Originally from Bristol, UK is CEO of China 2 West (C2W), family man and proud father of two (Milo 7 & Mia 8).  Mark resides fulltime in Zhuhai, South China overseeing C2W's China operations.
Nick Cunningham
(47)
Father of two children (Emilie 6 & Xavi 10), and a former Major in Her Majesty's Royal Marines (Ret.). Nick is the Founder and President of China 2 West and resides in Bangkok where he has just opened our new S.E. Asia office.
Mark Clayton
(33)

Qualified Accountant and studying for his Masters, Mark resides in Zhuhai, South China and is CFO of China 2 West responsible for the group's finances worldwide. Charity is one of Mark's passions, he is a Founding Board Member of The CTC (one of South China's largest foreign run charities) transparently funding life improvements to 100s of underprivileged children and children with learning disabilities in Zhuhai.
Mark Jacobs' father Keith Jacobs was sadly diagnosed with terminal lung cancer in April of 2017 and after almost 10 months of chemotherapy his family were given the devastating news that the treatments had been ineffective and would be ceased from that point onwards. Mark's dad has always been a fighter and rather than give up hope he pushed for a referral to apply for the National Lung MATRIX Trial, an ongoing research program looking at a number of new drugs to treat non-small cell lung cancer. He was subsequently invited to the Velindre cancer centre in Cardiff in late January of this year for a consultation and testing process to formalise his application.
Unfortunately, Keith passed before making it through to the trial but his potential placement within the program was all he talked about for the last 6 weeks of his life and gave all the family a glimmer of hope at an otherwise hopeless time. It really was his only ray of light in a difficult period and even right through to the end he never gave up the belief that he would improve enough to make it to the trial.
Lung cancer is the most common cause of cancer death in England and Wales. Although most cases are associated with smoking, there are a rapidly increasing number of sufferers who like Mark's father have never smoked in their lives.
This experience has led the 3 blokes to want to step out of their comfort zone and do something incredible, to raise as many funds as possible for the fight against cancer.
Keith was an active person and this challenge, raising money in his memory for well-deserved causes in both the UK and USA will have an added special personal touch that Mark will be placing some of his father's ashes on each of the peak's summits.
Total Donations Breakdown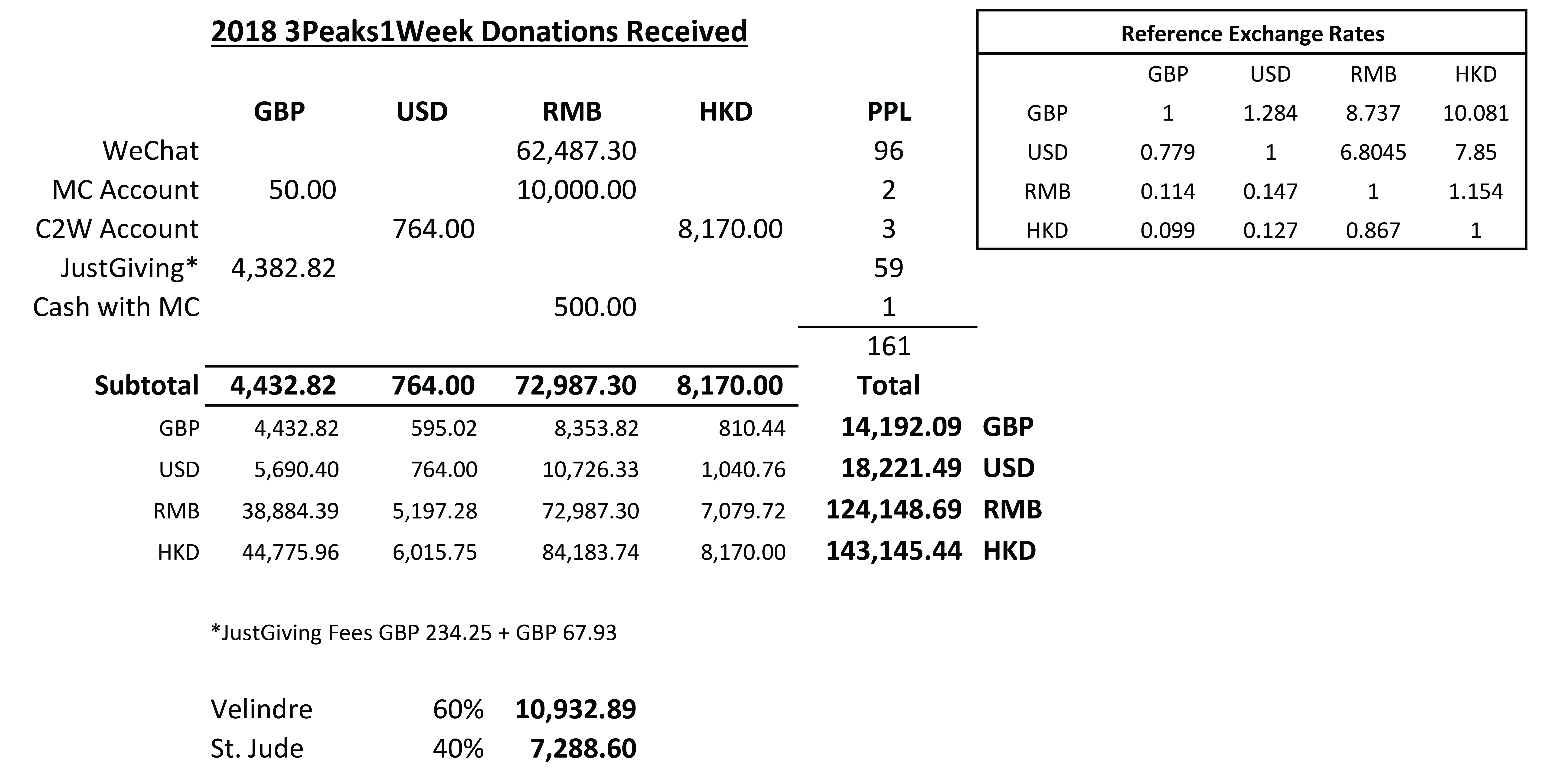 Velindre Cancer Center (UK) - Lung Cancer

More people in the UK survive cancer now than ever before thanks to early detection, better treatments and important research being conducted in programs such as the National Lung MATRIX Trial.

The Lung Cancer campaign at Velindre is called the Stepping Stones Appeal and funds local research into treatments and management of the illness. Although lung cancer is the most common form of cancer death in England and Wales, lung cancer research has been relatively poorly supported compared to other higher profile forms of cancer.
St. Jude Children's Research Hospital (USA) - Children's Cancer

St. Jude Children's Research Hospital is the first and only National Cancer Institute-designated Comprehensive Cancer Center devoted solely to children. The mission of St. Jude Children's Research Hospital is to advance cures, and means of prevention, for pediatric catastrophic diseases through research and treatment.
From 2000 to 2005, 83.7% of every dollar received by St. Jude went to the current or future needs of St. Jude. In 2002 to 2004, 47% of program expenses went to patient care and 41% to research. As of 2012, 81 cents of every dollar donated to St. Jude goes directly to its research and treatment.
Thank you to China 2 West Services Ltd., SOUL Inventions and Shogun Sports for providing training equipment and funding for the flights, hotels and guides to make this challenge possible.

The 3 blokes have self-funded all their own equipment for the challenge meaning that the entire challenge is 100% fully funded.

This means that all donations collected will go to charity in their entirety less banking and transaction fees, receipts will be posted later for transparency.

Any donation you can contribute towards these fantastic causes would be greatly appreciated in memory of the father, grandfather, husband and friend Keith Jacobs.

Donations can be made on our JustGiving page, via International Bank Transfer to China 2 West or on WeChat.